The #1 Website Builder for Cemeteries
Cemetery HQ gives you the tools to generate pre-need revenue, save your superintendent time answering routine questions, and tell visitors the story of your cemetery.
Free 30-day trial. No credit card required.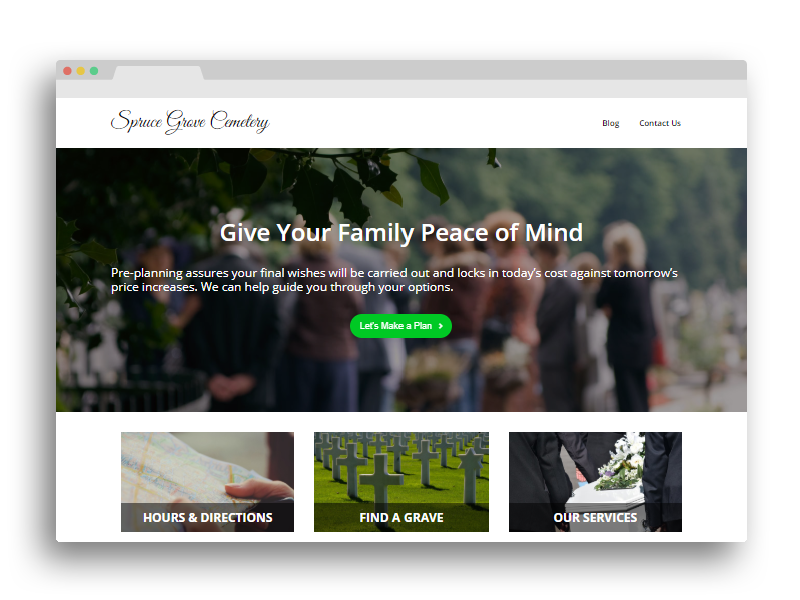 When visitors read your pre-need options page, they can immediately contact you when it's on the top of their mind with our built-in contact forms. Our easy-to-use form builder lets you customize your contact form however you like and you get to decide who receives the email.
With a modern website optimized for both computers and mobile devices, visitors will be able to find the information they're looking for without having to call your superintendent. Our website templates include pre-made pages for rules & regulations, location and hours of operation, FindAGrave search, and much more.
With Cemetery HQ, you can create pages and blog posts to tell the history of your cemetery as well as inform visitors about future events. You can even invite other members of your community to contribute under their own account.
Everything you need to build the perfect cemetery website that looks fantastic on any device.
Drag & Drop Builder
It's dead simple to build your website with our drag & drop builder. No technical experience required.
Images & Video
Add images and videos to show people the latest updates and events going on in your cemetery.
Website Tools
Social media buttons, contact forms, calendars, and much more. Everything you need to connect to your visitors.